SUMMARY
Greetings from Silverton. We hope you have been able to go outside and enjoy the snow.
As of this date, we have observed only a single dust-on-snow event here at our Senator Beck Basin Study Area, D1-WY2016 event on December 11-12, 2015. This event deposited 0.0748 g/m² of dust with the two day storm and was immediately buried. As of right now the D1 layer is buried deep in the approximate 1.6 m (5.3') snowpack, just above the ground and will have comparatively minor impacts on next spring's snowmelt runoff cycle, as the last layer to merge with the overlying layers during the snowcover ablation process. This dust event is the 5th dust-on-snow event occurring during the month of December documented since 2005.
PRECIPITATION & SNOWPACK CONDITIONS
We still have a number of days left in the month, but so far we have seen Three storms (and may see one more according to the forecast) ) in January. These storms – defined as an event that brings at least 12 mm of precipitation with no break in precipitation longer than 12 hours - contained a total of 3.0" of water content. Overall, early winter total precipitation is tracking well with other high cumulative precipitation seasons in our period of record such as WY2005, WY2008, and WY2011. By mid-January for previous seasons, WY2008 produced the highest cumulative precipitation totals at 560 mm, and WY2013 is easily ranked the lowest in cumulative precipitation at 107 mm. WY2016 is looking encouraging with at least 520 mm. Since beginning our monitoring at Senator Beck Basin, we have yet to observe dust-on snow events in the month of January.
Colorado is starting out very well in terms of number of storm events and resultant snow water equivalent (SWE). We haven't exactly experienced historic snow accumulation amounts from the "Godzilla" El Nino thus far, but Colorado has gained in other ways with 103 percent of normal snowpack in the combined Yampa and White River Basins to upwards of 130 percent of normal in the combined San Miguel, Dolores, Animas, and San Juan Basins. This is notable, because some past El Nino events have resulted in a dry northern half of the state. Looking into the future, it is likely that the initially strong El Nino is expected to gradually weaken through spring 2016, and to transition to ENSO-neutral during late spring or early summer, according to the Climate Prediction Center. Still, the seasonal outlook for January – March indicates an increased likelihood of above median precipitation across the southern tier of the United States, and below median precipitation over the northern tier of the United States. (http://www.cpc.ncep.noaa.gov/products/precip/CWlink/MJO/enso.shtml#forecast).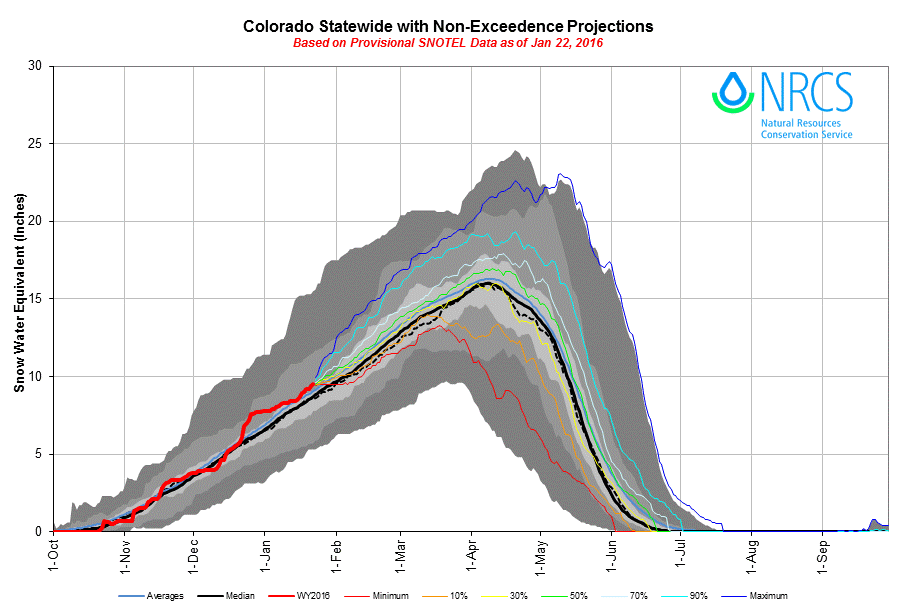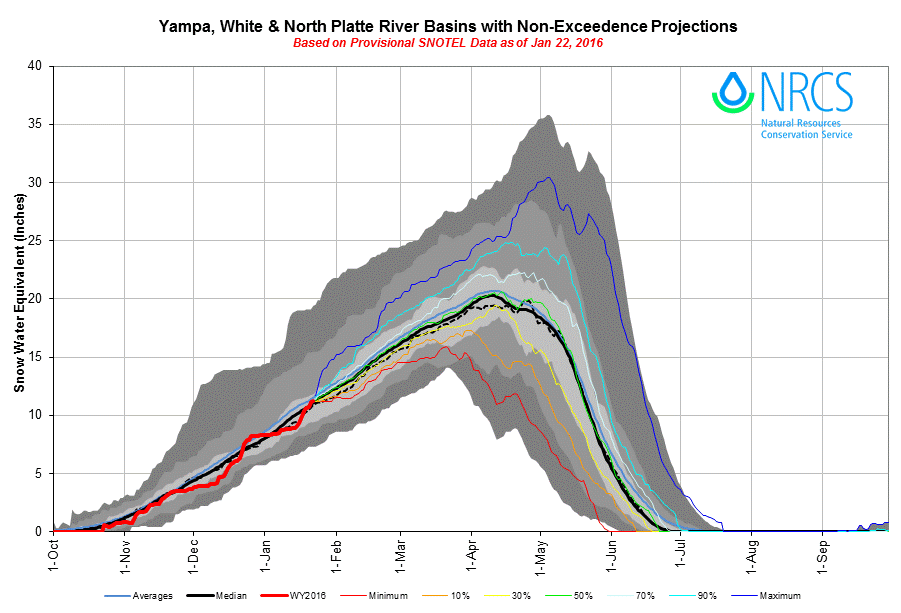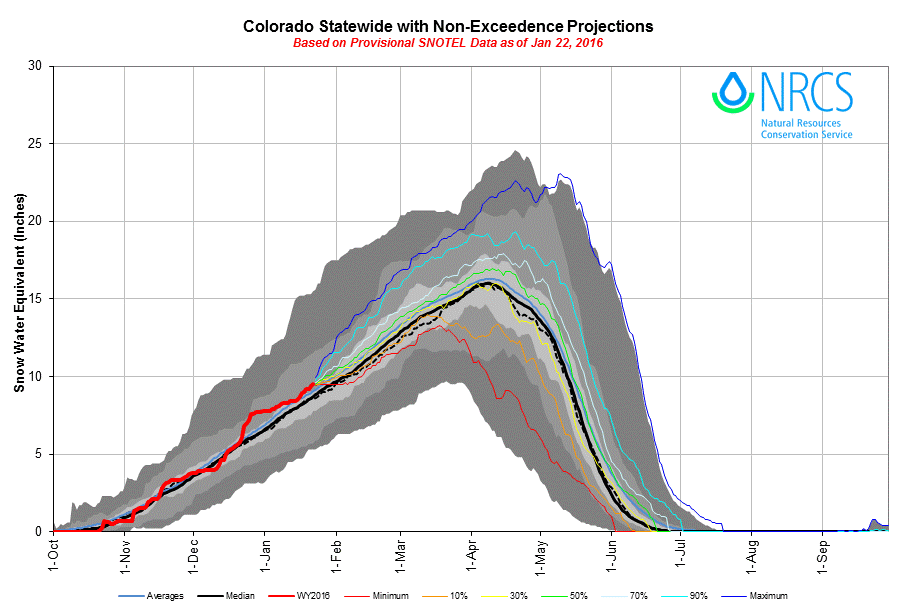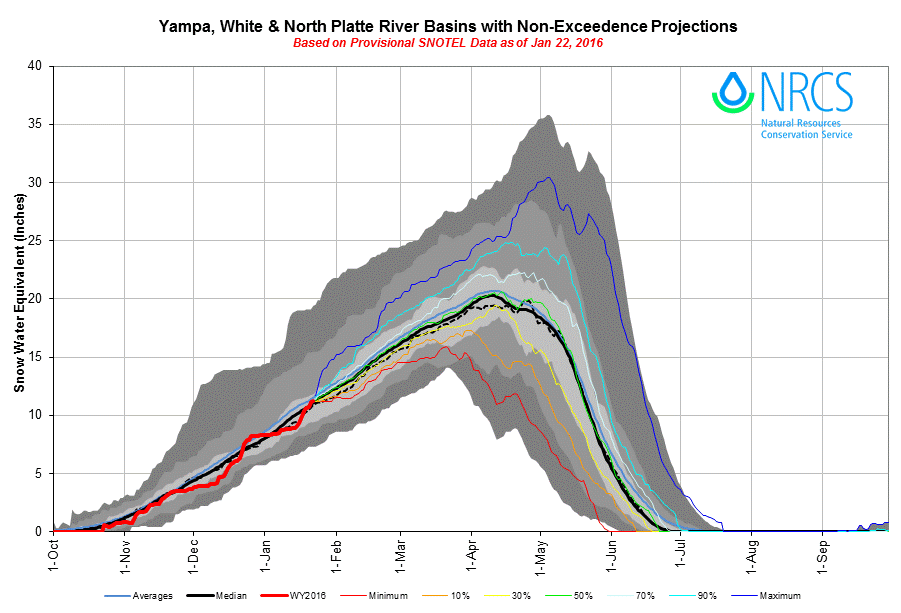 CLIMATOLOGICAL OUTLOOKS
The National Weather Service Climate Prediction Center (CPC) has issued climatological one-month outlooks for temperature and precipitation. Colorado for the most part is forecasted to experience normal temperatures. The majority of Colorado stands a good chance of above-average precipitation, with probability increasing from north to south.
Farther out, the three-month outlook for temperature and precipitation (shown below) show no probable variance from normal temperatures for Colorado but significant probabilities of above-average precipitation, particularly over the southern half of the state. As was the case last year, this precipitation outlook may foreshadow a "wet" spring for the Colorado Mountains.
CSAS is grateful to our many CODOS program funders for their ongoing, stakeholder support of this applied science effort. Our goal is to assist the greater Colorado water management community as you cope with dust-on-snow impacts on Colorado snowmelt processes.
As most of you know at this point, I am the new Executive Director of Center for Snow and Avalanche Studies, succeeding founder Chris Landry. To ensure a seamless transition, Chris will assist me this winter and coming spring with site visits and fieldwork, making introductions to CSAS's extensive network of stakeholders in Colorado and Colorado River Basin water management communities as well as familiarizing me with the operations of the CODOS program and process. To learn more about my background, please visit our about page.
I look forward to seeing most of you this week at the Colorado Water Congress in Denver.
More Soon,
Jeff Derry